---
Hotel Golden Grand is centrally located and is an ideal place to stay from where you can easily reach to some of the famous tourist spots of Delhi. Here is an overview of incredible monuments in Delhi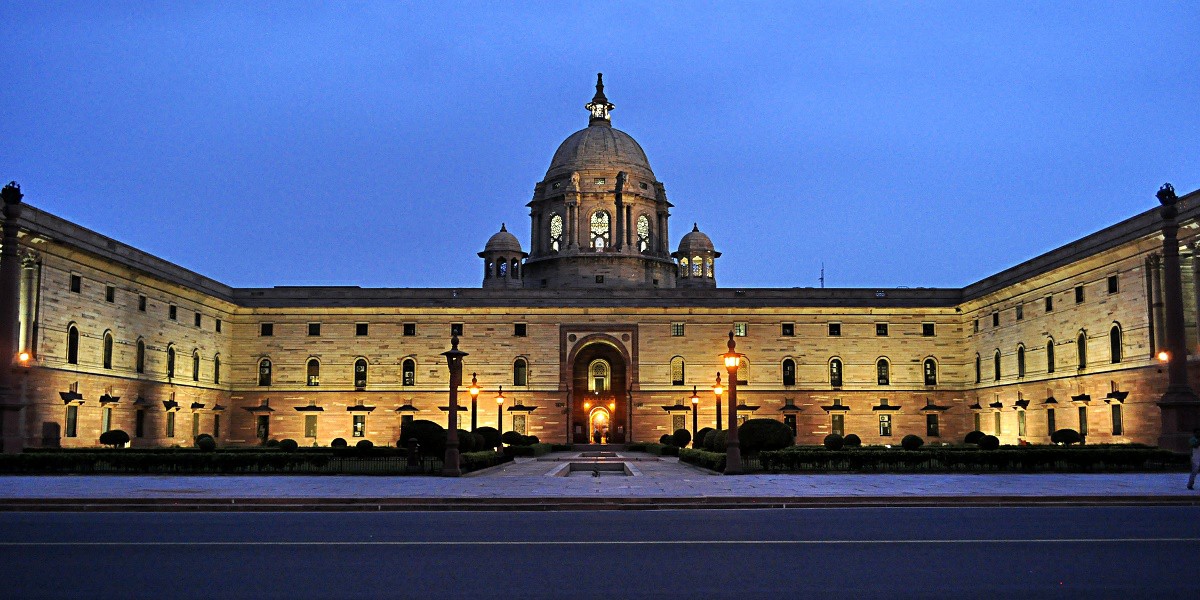 Rastrapati Bhavan
Rashtrapati Bhavan is the official home of the president located at the Western end of Rajpath in New Delhi, India. President Estate that additionally includes huge presidential gardens (Mughal Gardens), large open spaces, residences of bodyguards and staff, stables, other offices and utilities within its perimeter walls. In terms of area, it is one of the largest residences of a head of state in the world.
---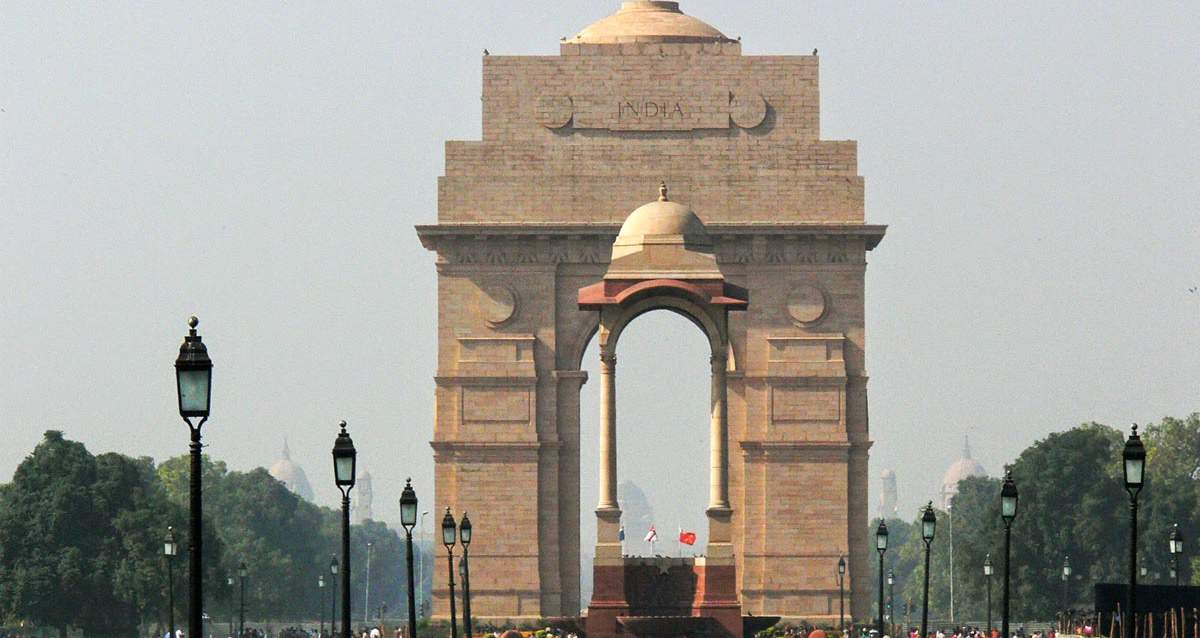 India gate
At the center of New Delhi stands a 42 meter high India Gate, an "Arc-de-Triomphe" like archway in the middle of crossroad. Almost similar to its French counterpart. It commemorates the 70,000 Indian soldiers who lost their lives fighting for the British Army during World War I. The memorial bears the names of more than 13,516 British and Indian soldiers killed in the northwestern frontier in the afghan war in 1919.
---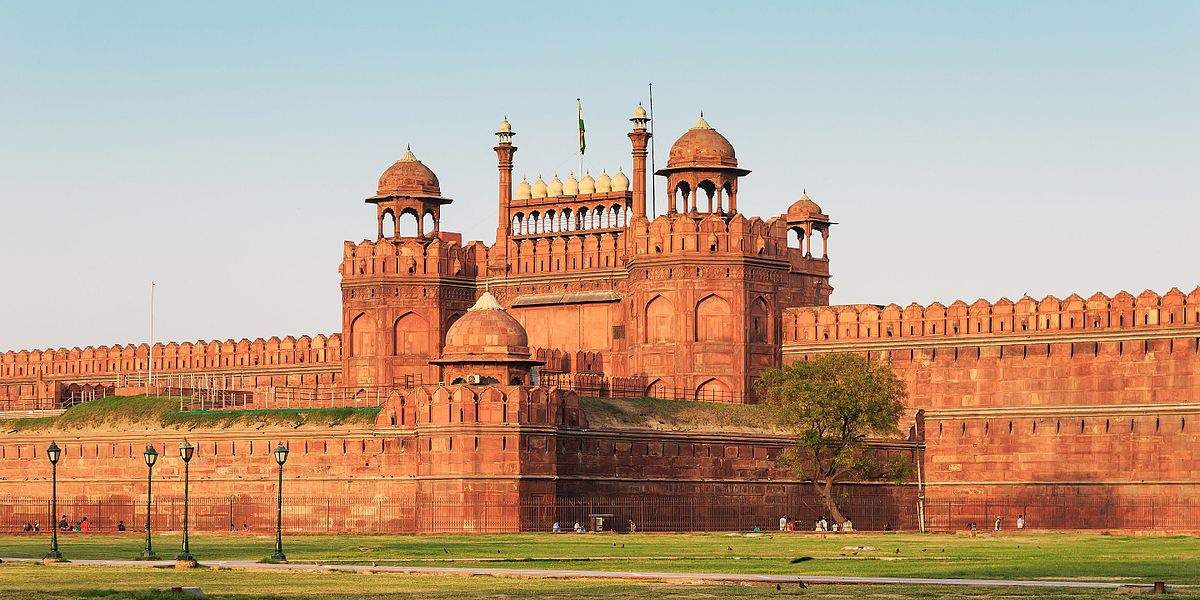 Red fort
Red fort in a 17th century for complex constructed by Mughal emperor Shah Jahan. The use of marble, floral decorations , double domes in the buildings inside the fort epitomized later phase of Mughal grandeur. Red fort embodies some important structures such as Diwan-i-Aam, Diwan-i-Khas, Nahr-i-Behisht, Moti Mashjid and many others that speak of Mughal spendour.
---

Lodhi Garden
Lodi Gardens or Lodhi Gardens is a city park situated in New Delhi, India. Spread over 90 acres (360,000 m2),it contains, Mohammed Shah's Tomb, Tomb of Sikandar Lodi, Shisha Gumbad and Bara Gumbad, architectural works of the 15th century by Lodis- who ruled parts of northern India and Punjab and Khyber Pakhtunkhwa province of modern-day Pakistan, from 1451 to 1526. The site is now protected by the Archaeological Survey of India (ASI).
---

Lotus Temple
This temple is built in the shape of a lotus flower and is the last of seven Major Bahai's temples built around the world. Completed in 1986 it is set among the lush green landscaped gardens. The structure is made up of pure white marble The architect Furiburz Sabha chose. the lotus as the symbol common to Hinduism, Buddhism, Jainism and Islam. Adherents of any faith are free to visit the temple and pray or meditate. Around the blooming petals there are nine pools of water, which light up, in natural light. It looks spectacular at dusk when it is flood lit.
---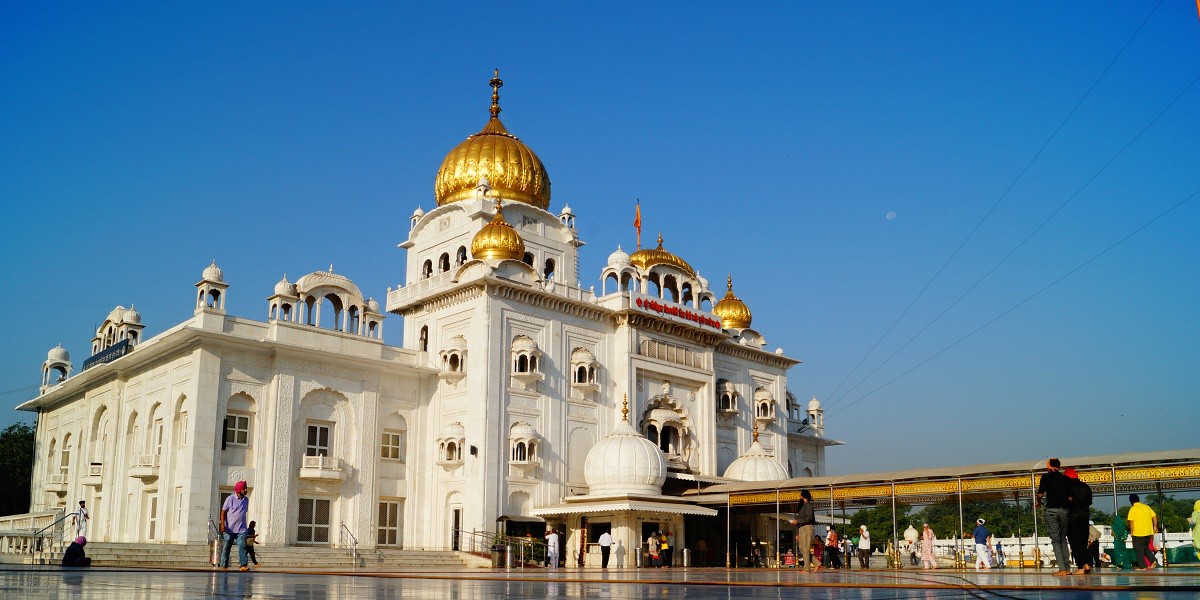 Gurudwara Bangla Sahib
Gurudwara Bangla Sahib is one of the most prominent Sikh gurdwara, or Sikh house of worship, in Delhi, India and known for its association with the eighth Sikh Guru, Guru Har Krishan, as well as the pool inside its complex, known as the "Sarovar." It ranked No 1 among the best tourist and pilgrimage spot in dehli (SURVEY-2017). It was first built as a small shrine by Sikh General Sardar Bhagel Singh in 1783, who supervised the construction of nine Sikh shrines in Delhi in the same year, during the reign of Mughal Emperor, Shah Alam II
---

Chhatarpur Temple
Shri Adhya Katyani Shakti Peeth Mandir or Chhatarpur Mandir is a Hindu temple dedicated to goddess Katyayani. The temple is located in South Delhi-Chhatarpur , just 4 km away from Qutub Minar. The goddess Katyayani, a part of Navadurga, is considered to be the sixth avatar of goddess Durga. Devotees from all caste and creed are welcomed here.
---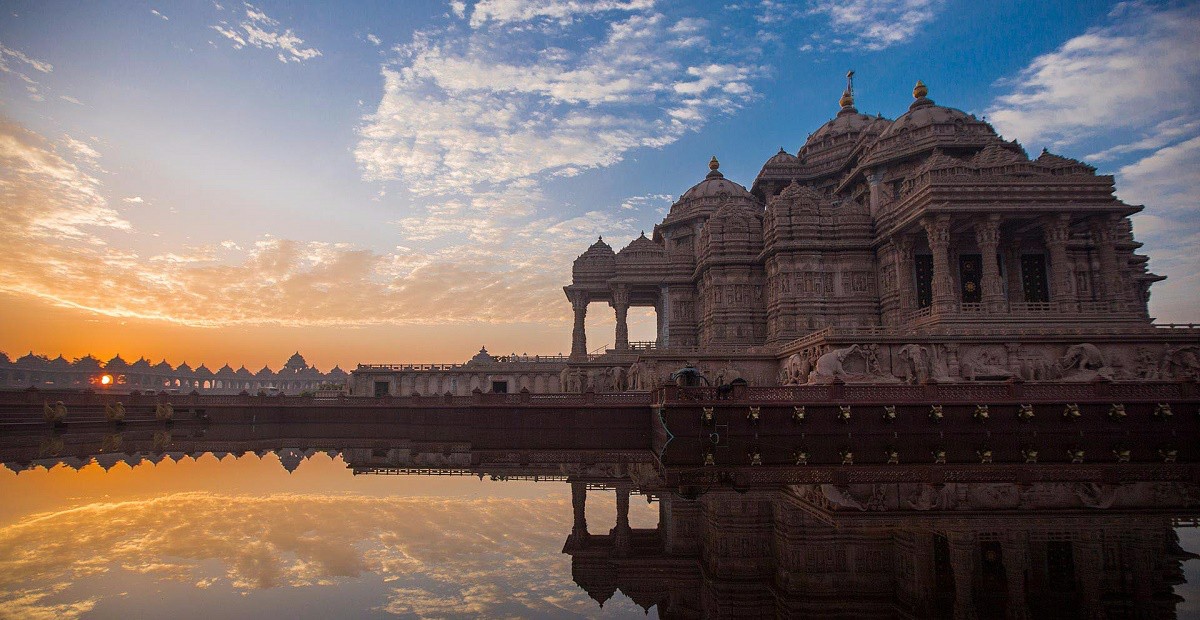 Akshardham Temple
Swaminarayan Akshardham in New Delhi epitomizes 10,000 years of Indian culture in all its breathtaking grandeur, beauty, wisdom an d bliss. It brilliantly showcases the essence of India's ancient architecture, traditions and timeless spiritual messages. The Akshardham experience is an enlightening journey through India's glorious art, values and contributions for the progress, happiness and harmony of mankind.
---

Jama Masjid
This great mosque of Old Delhi is the largest in India, with a courtyard capable of holding 25,000 devotees. It was begun in 1644 and ended up being the final architectural extravagance of Shah Jahan, the Mughal emperor who built the Taj Mahal and the Red Fort.
---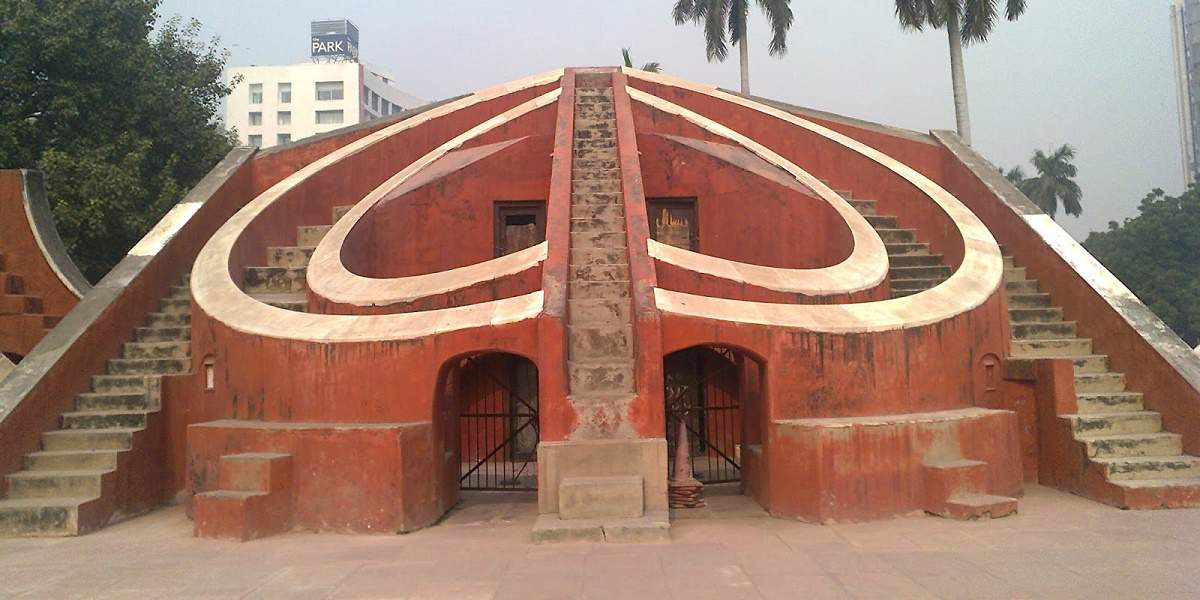 Jantar Mantar
Jantar Mantar, with Yantra meaning instruments and Mantra meaning formulas, was built in year 1724. Situated near Connaught Place, New Delhi Jantar Mantar counts amongst the numerous astronomical observatories erected by Maharaja Jai Singh II of Jaipur. The other observatories consist of the ones built in Jaipur, Varanasi, Ujjain and Mathura. It basically comprises of instruments that were used for keeping track of celestial bodies.
---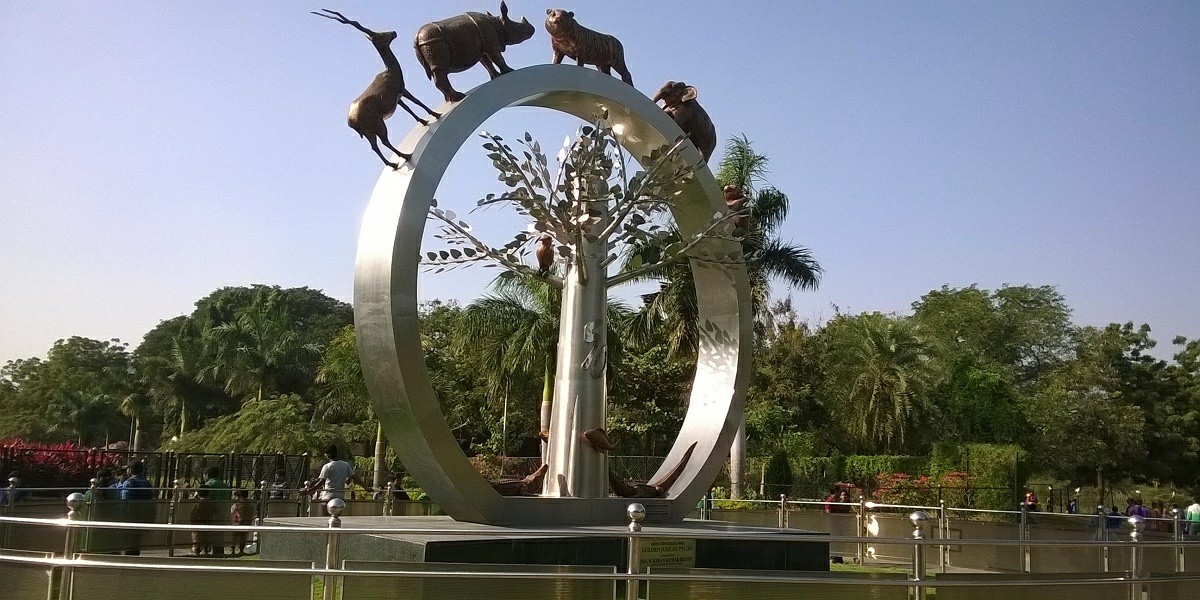 National Zoological Park
The National Zoological Park (originally Delhi Zoo) is a 176-acre (71 ha) zoo near the Old Fort in Delhi, India. A 16th-century citadel, a sprawling green island and a motley collection of animals and birds, all in the middle of a burgeoning urban Delhi. The zoo is home to about 1350 animals representing almost 130 species of animals and birds from around the world. Currently, the director of the zoo is Shri Amitabh Agnihotri, IFS. The zoo can be seen on foot or using a battery-operated vehicle which can be rented at the zoo.
---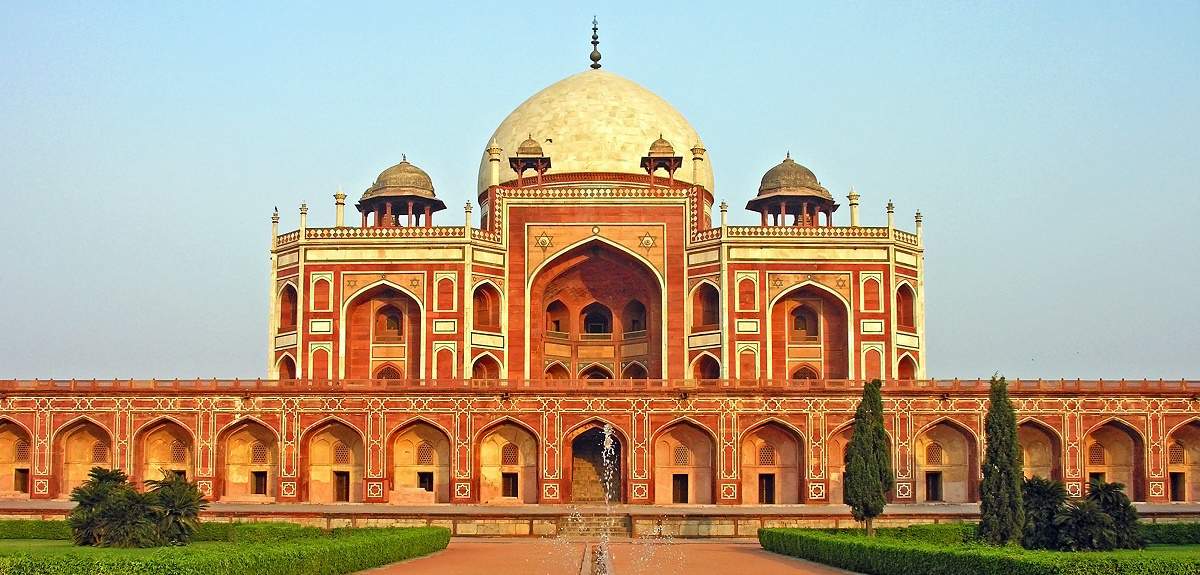 Humayun's tomb
Humayun's tomb was built in the year 1565 by his Persian wife Hamida Begum. It was laid out in a geometrically arranged garden crisscrossed by numerous water channels. The tomb carries Persian architecture and is notable for its inlaid tile work, carvings emobodying both Indian and Persian decorative elements and its carved stone screen.
---

Kingdom of Dreams
As the name implies, Kingdom of Dreams is a spectacular world of unparalleled imagination, which brings to you a blend of India's culture, heritage, art, crafts, cuisine and performing arts buttressed with the mind boggling technological wizardry of today. This unique tourist destination, situated at the apex of the golden triangle of Jaipur, Agra and Delhi offers you the carnival that is India.